I know this isn't a hentai but I am so obsessed with this anime you have no idea… plus tits?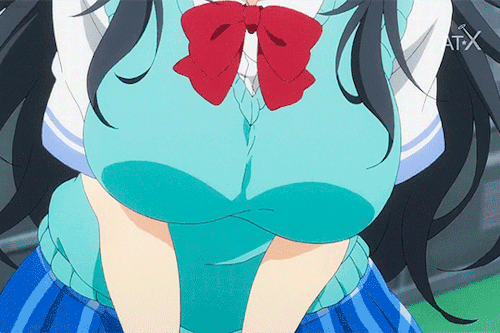 The story revolves around a teenage boy named Hideki Nishimura who plays an MMO with a group of women and men. He ends up asking a character to marry him and the character confides in him that she's really played by a male. In game of course… He's traumatized from this and resists Ako (the cute girl in the gif above) when she wants to marry him in game. After all the madness his guildies and him decide to meet in person. They find out that not only do they go to the same school but everyone he plays with is a hot girl! Even Ako! He marries Ako in game but Ako has a hard time separating reality and what happens in game! She lusts after him and feels like they are really married IRL! It's hilarious! You'll have to watch the series to find out what else happens and I highly recommend it!
Watch And You Thought There Is Never a Girl Online? on Funimation now!
…and since it's not a hentai… here is a gallery of hotness.